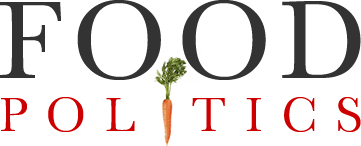 by Marion Nestle
KFC's Double Down again. Sigh.
I can't believe I'm writing about the bunless Double Down sandwich for the fourth time (see previous posts), but KFC's marketing department never ceases to amaze.  In reading the company's press releases, I somehow missed what KFC is doing with the "missing" buns: donating them to food banks!
When introducing a bunless sandwich, the obvious question is: what happens to all the buns? To celebrate the launch of the Double Down, KFC will do some good by donating the "unneeded" sandwich buns to feed the hungry….it's great to find a good home for some of those 'unneeded' KFC buns at food banks around the country.
The mind, as they say, boggles.  You need go no further to understand why we need a more rational and effective food assistance policy in this country.
Could KFC's relentless marketing efforts be acts of desperation?  According to Advertising Age (April 19),
The fast-food chain formerly known as Kentucky Fried Chicken seems to have tried everything. It's changed its name to initials, then back to words, then back to initials. It's leaned on cheap marketing stunts…most recently, launching the 500-calorie Double Down sandwich, which replaces bread with chicken breasts…KFC's market share tumbled six full points since 2005 to 30% in 2009, while the category grew from $14.5 billion to $16.1 billion.
Advertising Age says KFC's measured media advertising budget was a mere $235 million in 2009, and that the Double Down is expected to improve KFC's fortunes.
No question, the Double Down brought in plenty of free media buzz.  I've once again contributed to it, hopefully for the last time.