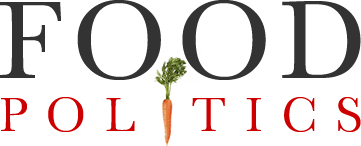 by Marion Nestle
The FDA's labeling initiatives: Really
I have now seen the talking points used by FDA senior scientific advisor Jessica Leighton in her speech to the Food Policy Conference last week.  These are indeed quite different from those I reported a few days ago.  Here is my understanding of what she actually said.
Dr. Leighton reported that the FDA was working on a number of food labeling initiatives:
Updating elements of the Nutrition Facts Panel such as calories, serving sizes, and Daily Values.
Identifying a front-of-pack nutrition label based on sound nutrition science and easily noticed, understood and used by consumers.
Implementing the new federal menu labeling law with regulations to be released by March 2011.
She emphasized that the focus of FDA's public health efforts is to address chronic disease and obesity problems by making the best information available in the best way to help consumers make healthy food choices.
FDA seeks input.  To that end, it is releasing solicitations and draft guidance documents.
FDA especially seeks research that can help the agency determine the best way its initiatives can improve consumer food behavior.
These goals make sense to me, and I'm glad to have them clarified.
Footnote: Food Chemical News has just filed a correction to its original story:
Food Chemical News, in our Sept. 27 weekly issue, incorrectly identifies a flow-chart containing a list of dates for proposing food labeling-related proposals and final rules as coming from Jessica Leighton, a FDA senior science advisor. The document was actually provided by the Center for Science in the Public Interest and drafted with the assistance and/or blessing of as many as 12 consumer and health-oriented trade groups as a recommended approach for the FDA to follow, clarifies Bruce Silverglade, CSPI's director of legal affairs.

The one-page document was handed out during a session at the 33rd National Food Policy Conference, an event jointly sponsored by the Consumer Federation of American and Grocery Manufacturers Association, in Washington, D.C.  Leighton, Silverglade and three others were presenters in the session. The one page sheet, entitled "Timetable for Food Labeling Reform and Need for Concurrent FDA/USDA Action," does not identify a source.

Silverglade, who takes credit for having the document given to attendees at the meeting, says it originally was provided as part of a three-page letter sent to Martha Coven, special assistant to the President for the Domestic Policy Council, and Zeke Emanuel, senior advisor in the Office of Management and Budget (see FCN Aug. 9, Page 1). The American Cancer Society, American Medical Association, Consumers Union and American Heart Association were among the many groups to sign the letter.

The editorial staff of Food Chemical News apologizes for the error.