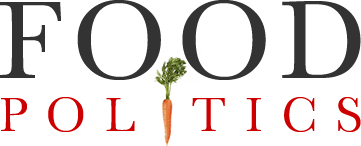 by Marion Nestle
Wikileaks plays food politics: US vs. EU agbiotech policies
I'm still catching up on what happened during the weeks I was out of Internet contact, so I've only just heard about the Wikileaked diplomatic cable about U.S. food biotechnology policies.
In December 2007, the U.S. Ambassador to France, Craig Robert Stapleton, wrote the White House to demand retaliation against European Union countries that refused to allow import of genetically modified (GM) corn from the United States.
Ambassador Stapleton's confidential memo of December 14, 2007  explained that the French government was attempting to
circumvent science-based decisions in favor of an assessment of the "common interest"…. Moving to retaliation will make clear that the current path has real costs to EU interests and could help strengthen European pro-biotech voices.  In fact, the pro-biotech side in France — including within the farm union — have told us retaliation is the only way to begin to begin to turn this issue in France.

…France's new "High Authority" on agricultural biotech is designed to roll back established science-based decision making….The draft biotech law submitted to the National Assembly and
the Senate for urgent consideration…would make farmers and seed companies legally liable for pollen drift and sets the stage for inordinately large cropping distances. The publication of a registry identifying cultivation of GMOs at the parcel level may be the most significant measure given the propensity for activists to destroy GMO crops in the field.
The Ambassador's recommendation?
Country team Paris recommends that we calibrate a target retaliation list that causes some pain across the EU….
Retaliation?  Against friends?  Even the Bush administration knew better.  The Obama administration also has not taken this advice.
The product at issue was a variety of Monsanto's GM corn.   Could Monsanto have had anything to do with the Ambassador's pointed interest in this matter?  Wikileaks: any chance for more documents on this matter?