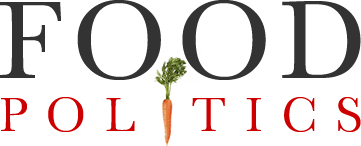 by Marion Nestle
United Nations' Special Rapporteur vs. the World Trade Organization
On December 19, Food Chemical News reported that Pascal Lamy, secretary-general of the World Trade Organization (WTO) "traded blows" with  United Nations' Special Rapporteur on the Right to Food, Olivier De Schutter, over the role of trade in food security.
As far as I can tell, the "blows" were figurative, not literal, but the debate was real.   De Schutter had written a report questioning whether greater trade liberalization—the goal of WTO—could deliver on food security (for the basis of this debate, see below).
"Developing countries are rightly concerned that their hands will be tied by trade rules," De Schutter said, and called for higher tariffs and targeted farm subsidies to stimulate local food production.   He labeled the "WTO's vision as "outdated. … The right to food is not a commodity, and we must stop treating it that way."
For some time now, I've been following the De Schutter's work, not least because he is using the office of Special Rapporteur as a bully pulpit from which to promote healthier and more sustainable and equitable food systems throughout the world.
De Schutter, among other things, is my occasional colleague at NYU.
Olivier De Schutter (LL.M., Harvard University ; Ph.D., University of Louvain (UCL)), the UN Special Rapporteur on the right to food since May 2008, is a Professor at the Catholic University of Louvain and at the College of Europe (Natolin). He is also a Member of the Global Law School Faculty at New York University and is Visiting Professor at Columbia University.
As Special Rapporteur, he is supposed to
Report both to the UN General Assembly (Third Committee) and to the Human Rights Council on the fulfillment of the mandate…In addition to addressing structural issues threatening the full enjoyment of the right to food, the Special Rapporteur may send communications to governments, called letters of allegation, in urgent cases brought to his attention by reliable sources.
Professor De Schutter has used this office to produce a remarkable succession of reports and position papers on a broad range of topics related to food, agriculture, and human and environmental health:
Take a look at the documents listed under these categories.  They are a terrific resource for anyone interested in the human right to food.
As for De Schutter vs. WTO, see: