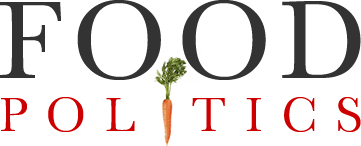 by Marion Nestle
Walmart's new front-of-package "buy me" logo
This morning, Walmart announced a new FOP labeling program:
The logo will go on Walmart's in-house brand products that meet the company's nutritional criteria.  These criteria are similar (but not identical) to those recommended by the Institute of Medicine (IOM) in its recent report advising the FDA about what should be included in front-of-package labels.
Because the FDA has not yet acted on the IOM report, Walmart—like other retailers—is jumping the gun in doing its own thing.  Its thing, however, is a substantial improvement over the Facts Up Front scheme put in place by the Grocery Manufacturers Association and Food Marketing Institute.
In general, strict nutrition criteria for salt, sugar, and saturated fat exclude most supermarket products.
Walmart's criteria are pretty strict.  They exclude 80% of Great Value products.
In the cereal category, for example, only these Great Value items qualify:
Extra Raisin Bran Cereal
Raisin Bran
Bran Flakes
Crunchy Oat Squares
Frosted Shredded Wheat
Crunchy Nugget Cereal
Toasted Wholegrain Oat Cereal
But these Great Value cereals do not:
Cocoa Cool Cereal
Cinnamon Crunchy Oat Squares Cereal
Apple Blasts Cereal
Sugar Frosted Flakes Cereal
Toasted Corn Cereal
Crisp Rice Cereal
Fruit Spins Cereal
Fruity Puffs Cereal
Crunchy Honey Oats Cereal
Vanilla Almond Awake Cereal
OK, but I wish the company had waited for the FDA to decide on a plan for FOP labeling (and I wish the FDA would get busy on that plan).
All of these schemes are ways to avoid putting negative information on package labels.  No seller or retailer wants a red traffic light—"don't buy me"—on its products, especially because research shows that stop signals work.  Customers tend not to buy products marked with red traffic lights.
The IOM report concluded that negatives ("don't buy") worked better than positives ("buy me") in guiding consumer choice.   A more recent study confirms that finding.
Companies much prefer green-light systems like the one Walmart is doing.
The Walmart press release explains:
Walmart moms are telling us they want to make healthier choices for their families, but need help deciphering all the claims and information already displayed on products…Our 'Great For You' icon provides customers with an easy way to quickly identify healthier food choices…this simple tool encourages families to have a healthier diet.
But does it?  Will Walmart customers buy more of the items marked with the logo instead of the other kinds?  The company says it is doing the research.  Will customers who buy products with the logo be healthier as a result?
I can't wait to find out.
Addition, February 8: Here's the way the New York Times dealt with this (I'm quoted).