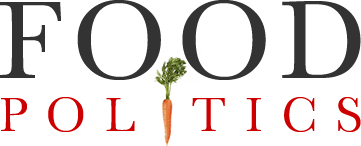 by Marion Nestle
Food industry thinks name change will disguise bad labeling scheme
Does a name change make a difference?  The Grocery Manufacturers Association (GMA) and the Food Marketing Institute (FMI) evidently think so.
They are changing the name of their preemptive front-of-package (FOP) labeling scheme from "Nutrition Keys" to "Facts Up Front."
The new name comes with a new website, a new organization (FactsUpFront.org), and a $50 million marketing campaign.
Its purpose?  As I have discussed on more than one occasion (see here and here, for example), GMA and FMI are engaged in a blatant, in-your-face attempt to undermine the FDA's current efforts to rationalize FOP labeling.
The FDA engaged the Institute of Medicine (IOM) to produce two research reports on FOP labeling.  The first IOM report, released a year ago, concluded that FOP labels should disclose only calories and three "bad-for-you" nutrients: saturated fats, trans-fats, and sodium.  I thought the report made sense but that the omission of sugars was a mistake.
The IOM also said that information about good-for-you nutrients—protein, fiber, vitamins, and minerals—would only confuse consumers and would be likely to encourage food companies to unnecessarily fortify products with these nutrients as a marketing strategy.
The second IOM report, according to press accounts, is due out sometime in October.  The FDA is waiting for this report before starting rulemaking on FOP labels, an interminable process at best.
In the meantime, the food industry has jumped the gun.  The Facts Up Front website justifies this scheme on the basis of the Dietary Guidelines:
To ensure that consumers receive consistent and reliable information, the labeling system also adheres to current guidelines and regulations from FDA and USDA Food Safety and Inspection Services.

…Manufacturers may also choose to include information on up to two "nutrients to encourage." These nutrients – potassium, fiber, protein, vitamin A, vitamin C, vitamin D, calcium and iron – are needed to build a "nutrient-dense" diet, according to the Dietary Guidelines for Americans.
Yes they are, but not on the front of food packages.  It's obvious why GMA and FMI are doing this—they know that nobody will look at or understand the label.
But they should not be doing this.  It is the wrong thing to do.
On the topic of name changes:  The American Dietetic Association (ADA) has just changed its name to the Academy of Nutrition and Dietetics (AND).  I'm not a member of the ADA, can only speculate on what this is about, and have no comment.