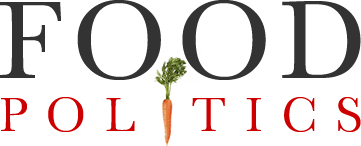 by Marion Nestle
Question for today: how should we support mid-size dairy farms?
My "thought for a summer weekend" post elicited interesting comments.
Let's start with the one from FarmerJane, a mid-size dairy farmer who is a frequent contributor.
She asks: How can farmers and consumers find ways to dialog and share information?
She says (and I'm doing some heavy editing here, with her permission):
Thoughts about ag are dominated by a few powerful big media writers.  When we farmers try to speak, we find ourselves excoriated….Rural America does not seem to have any sort of spokesperson who has access to national media.  The issues are framed by a handful of urban food-elite writing whose thoughts then trickle down to how rural farmers are perceived…I think the inclusion of farmers in food dialog would bring a multidisciplinary approach to the issue of food:  environment, ag economics, animal welfare, food systems to name a few. But what are the ways this could happen?

I feel that we, the average farmer of the middle are being marginalized.
I asked: What would you like to see done for farmers like you, neither CAFO, nor small.  She had several suggestions, which I summarize here mostly in my words (hers are in quotes):
Fix milk marketing orders and "end-product" pricing.  Right now, prices are paid to farmers according to the use of the milk.  From high prices to low: Class I (fluid milk), Class II (yogurt), Class III (cheese), Class IV(butter/powder).  If the push is to turn milk into yogurt, cheese, or butter, dairy farmers don't get paid as much.
Encourage local production.  "The eastern half of the country is actually in "milk deficit" of about 3.2 billion pounds per month, while the western half is pushing the milk out like there is no tomorrow…Farmers in the western part of the country are calling for supply management to rein in some of this rapid growth, while we here in the east are generally opposed to it."
Make pricing more transparent.  "Farmers don't know instantly what dairy prices are (hopefully this will change as farmers have pushed hard on this issue to come out of the Stone Age)."
Cap supports on CAFOs.  "Some of the major NY CAFO's got millions in terms of 'corn subsidies' in addition to dairy payments."
Support mid-size dairy herds: The trigger point at which a farm becomes a CAFO in NY is only 200 cows.  Extension estimates that meeting CAFO requirements at this limit keeps farmers at 199 cows because the compliance cost is something like $162,000.
Reregionalize dairy processing: "meaning more processors in NY who can compete for the farmers' milk….The more competition for milk the better, especially from a number of smaller processors that farmers and smaller coops can negotiate with."
Deal with anti-competitive forces. Large dairies are engaged in market collusion and this hurts smaller dairies.  " Massive retail level buyer consolidation is another issue… Walmart has the power to drive down farmer prices in all dairy categories… The more we can do to break the Walmart grip, the better off we all will be."
Look at the trends.  " I know that NY has gone from 30,000,000 acres of farmland when we were kids, to just 7,000,000 today.  There are some 3,000,000 acres of abandoned grazing farmlands Upstate, with empty barns as far as one can see in some areas.  And, I see an increasing number of huge CAFO's with all-immigrant work forces who send every penny home, cows that never go outdoors, and emptied out Main Streets up here….I wonder how it could possibly make sense not to encourage farms of all kinds, especially making use of the grasslands that are close to NYC."
Her overall question: "How does one move these questions into the public realm for intelligent discussion?
Senator Gillibrand has made it her business to understand dairy policies as they affect New York State.  For anyone who has ever tried to understand milk marketing orders, that's an achievement (see below).
Responses?  Any good ideas for FarmerJane?