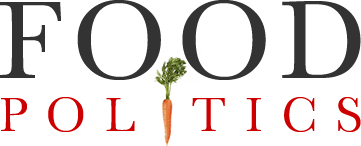 by Marion Nestle
Food Politics at the Department of State: Culinary Diplomacy
I've been sent a copy of the Department of State's Diplomatic Culinary Partnership Initiative. called "Setting the Table for Diplomacy."
Its mission statement:
The Diplomatic Culinary Partnerships initiative builds on Secretary of State Hillary Rodham Clinton's vision of "smart power" diplomacy, which embraces the use of a full range of diplomatic tools, by utilizing food, hospitality and the dining experience as ways to enhance how formal diplomacy is conducted, cultivating cultural understanding and strengthening bilateral relationships through the shared experience of food.
I particularly like the idea of "using food as a foundation for public diplomacy programs to learn about different cultures and discuss important related issues such as nutrition, sustainability and food security."
Yes!
Everybody eats.  This is my kind of diplomacy.