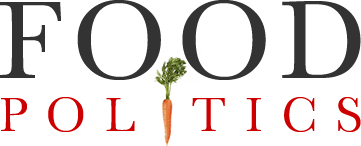 by Marion Nestle
Some reflections on Labor Day, 2012
Economists tell us that we are in a recovery period.  Jobs, yes.  But money?  No.
According to the report in the New York Times, the employment statistics reflect substantial increases in low-wage jobs but losses in better paying jobs.
Lower-wage occupations, with median hourly wages of $7.69 to $13.83, accounted for 21 percent of job losses during the retraction. Since employment started expanding, they have accounted for 58 percent of all job growth.

The occupations with the fastest growth were retail sales (at a median wage of $10.97 an hour) and food preparation workers ($9.04 an hour). Each category has grown by more than 300,000 workers since June 2009.
Need a job?  Head for the kitchen.
But be careful.  According to another New York Times report, a new study finds that:
Low-wage workers are routinely denied proper overtime pay and are often paid less than the minimum wage…Of workers who receive tips, 12 percent said their employer had stolen some of the tips.
Wouldn't unions help?  They might, but take a look at the Ithaca Journal's analysis of union membership.  New York, it seems leads the nation in the percentage of its workers who belong to labor unions: 24.1% in 2011.
But, this percentage:
glosses over the fact that while union representation has increased in the state's public sector, it has fallen off dramatically in the private sector.

Last year, according to the unionstats.com website, 72.2 percent of the state's public work force was unionized…But in the private sector, the unionization rate last year was 13.5 percent.

The easy answer for the decline in the private sector, analysts say, is the state's loss of job slots in the manufacturing sector — 908,400 in 1991 to 458,000 in 2011 — which has long been organized labor's bread and butter.
But there are other reasons for the resistance to private sector unionization:
Part is based on employers' imagined need to increase their profitability and part has to do with a tremendous growth in law firms and consultants that specialize in breaking private unions.
No wonder more than 46 million Americans qualify for and receive SNAP (food stamp) benefits.
The food service industry exists on low-wage jobs.  Such jobs should be entry-level, not permanent.  They are not a solution to America's economic problems and they are not good for social stability or American democracy.
What is the solution?  Wish I knew.
Any ideas?