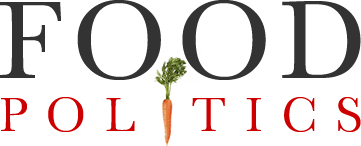 by Marion Nestle
New books on how the food industry hooks us on junk food
Two new books out on the same day, both looking at similar topics but from different angles, both well worth reading.  I did blurbs for both.
Melanie Warner, Pandora's Lunchbox: How Processed Food Took Over the American Meal, Scribner, 2013.
Warner used to cover the food business beat for the New York Times.  She knows what she's talking about.
My blurb:
In Pandora's Lunchbox, Melanie Warner has produced an engaging account of how today's "food processing industrial complex" replaced real foods with the inventions of food science.  Her history of how this happened and who benefits from these inventions should be enough to inspire everyone to get back into the kitchen and start cooking.
And here is Warner in the weekend's Wall Street Journal on the liquification of chicken nuggets (white slime, anyone?).
Michael Moss, Salt Sugar Fat: How the Food Giants Hooked Us.  Random House, 2013.
Moss wrote a Pulitzer Prize winning article for the New York Times on failures in our food safety system.  His article based on his new book appeared in Sunday's New York Times Magazine.
My blurb:
Salt Sugar Fat is a breathtaking feat of reporting.  Michael Moss was able to get executives of the world's largest food companies to admit that they have only one job—to maximize sales and profits—and to reveal how they deliberately entice customers by stuffing their products with salt, sugar, and fat.  Anyone reading this truly important book will understand why food corporations cannot be trusted to value health over profits and why all of us need to recognize and resist food marketing every time we grocery shop or vote.
And here's the Wall Street Journal's review of both (which is what happens when books on the same topic are published on the same day).