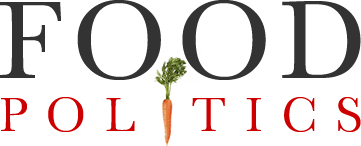 by Marion Nestle
Happy publication day: Farmacology
At your local bookstore now:
Daphne Miller, MD.  Farmacology: What Innovative Family Farming Can Teach Us About Health and Healing.  William Morrow, 2013
I blurbed it:
Farmacology is an eloquent call for better systems of sustainable agriculture and humanistic health care.  In linking the two, Dr. Miller brings a physician's critical eye and understanding to this lovely, touching, and sometimes quite funny account of what she learned about taking care of patients from visits to farmers who view growing food as part of an self-sustaining, integrated, natural cycle.  Her insight: both soil and people do better when treated as complex systems, not fragments.  This is a fresh, original, and utterly charming book that belongs on the shelves of everyone who loves food or thinks about health care.
Dr. Miller provides a link to a page on her website with more information on the book, reviews and her "official" Farmacology slide show.
Enjoy!