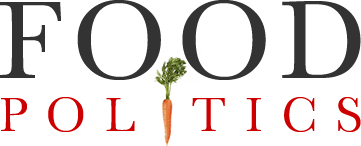 by Marion Nestle
The Mediterranean diet: a delicious way to prevent heart disease?
In my April (first Sunday) Food Matters column for the San Francisco Chronicle, I catch up with the Mediterranean diet study first published online on February 25 (and widely publicized), and just now in print in the New England Journal of Medicine.
Q: I read about a study (New England Journal of Medicine, April 4) claiming that Mediterranean diets prevent heart attacks. Does this mean I can stop worrying about eating pasta?
A: That study, alas, was not about pasta. It wasn't really about Mediterranean diets, either. Instead, it was about the benefits of supplementing healthy, largely vegetarian diets with olive oil or nuts.
We usually think of Mediterranean diets as offering lots of vegetables and fruit, some fish or poultry, small amounts of pasta, olive oil as the main fat, everything cooked wonderfully and accompanied by wine.
For years, studies of such diets have shown them to be associated with much lower rates of heart disease than are typically found in groups following "Western" diets. Studies of the effects of individual components of Mediterranean diets, however, have not always yielded such consistent results.
Used a control group
In the study you are referring to, investigators in Spain advised two groups of participants to follow a Mediterranean diet, but a control group to eat a low-fat diet. Advising people to eat in a certain way does not necessarily mean that they will. To make sure the diets differed, the investigators divided the Mediterranean diet advisees into two groups.
At no cost to participants, they gave one group a liter of extra virgin olive oil a week, with instructions to use at least 4 tablespoons daily. They gave the other Mediterranean diet group an ounce of mixed nuts a day to eat at least three times a week. They measured biomarkers in the participants' blood to confirm that they really ate the supplements.
The results were impressive. Although there were no differences in overall mortality in nearly five years, the two supplemented-Mediterranean diet groups displayed about a 30 percent reduction in the risk of heart attacks and strokes as compared with the group advised to eat a low-fat diet.
But, because they did not find much change in the participants' dietary patterns, the investigators concluded that the extra virgin olive oil and nut supplements must have been responsible for the observed health benefits.
What does the Mediterranean dietary pattern have to do with these results? Extra virgin olive oil and nuts are components of this pattern. Both contain "good" fats, largely unsaturated or polyunsaturated, and both are high in certain phenolic antioxidants.
These features have been recognized for decades. The Mediterranean diet came to public attention in America in the early 1990s as a result of efforts of the International Olive Oil Council, a trade group established by the United Nations.
The council recruited a group in Boston, Oldways Preservation and Exchange Trust, to promote olive oil to American chefs, nutritionists and food writers. If, they said, we ate diets similar to those followed by the Greeks and southern Italians since ancient times, we might also achieve similar levels of health and longevity.
The council and Oldways based this idea on the results of research initiated soon after World War II. In the late 1940s, Rockefeller University sent investigators to the island of Crete to find out why its people, although living in extreme poverty, were so healthy. Once past infancy, people on Crete displayed the highest longevity in the world, rivaled only by the Japanese.
Subsequent Seven Countries studies conducted by Ancel Keys and his colleagues appeared to confirm the health benefits of Mediterranean dietary patterns.
Olive oil, nuts critical
Olive oil or nuts seem critical to these benefits. Besides their fat and phenol content, both are wonderful to eat. Olive oil tastes good by itself and it makes other foods, particularly vegetables, taste delicious. Nuts enliven any dish. So research on Mediterranean diets brought good news. You could eat delicious food – and it would be good for you.
The Mediterranean diet took hold. In the early 1990s, you had to search hard for a decent bottle of extra virgin olive oil; now almost any supermarket carries several brands, many of high quality. Except during the sad, but blessedly brief, low-carb era, the Mediterranean diet became mainstream.
But let's be clear about what the Mediterranean diet is and is not. It is a model of the largely plant-based dietary pattern recommended by health agencies in the United States and worldwide. It does not mean supersize bowls of macaroni smothered in cheese.
Olive oil and nuts, for all their virtues, are loaded with calories. The Spanish study's 4 tablespoons provide 400 calories. An ounce of mixed nuts is about 200. Include them in your diet by all means, but most definitely in moderation.
I think the best reason for following a Mediterranean diet is that its foods are terrific to eat. Pasta, vegetables, a fish, some good bread, and a glass of wine? Sounds good to me, any time.
Marion Nestle is the author of "Why Calories Count: From Science to Politics," as well as "Food Politics" and "What to Eat," among other books. She is a professor in the nutrition, food studies and public health department at New York University, and blogs at foodpolitics.com. E-mail:food@sfchronicle.com.