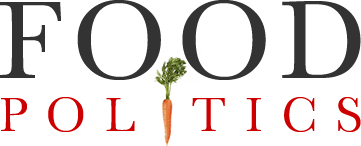 by Marion Nestle
What's new in food marketing? Protein!
Protein is the buzzword that is helping sell many kinds of foods. Food companies are placing more prominent protein labels on packaging and adding protein to such products as drinks, bars and cereals…A label that says protein has what researchers call a "health halo effect" that goes beyond just the promise of protein. When people see the word, they also believe the product will make them feel more full or give them energy.
FoodNavigator-USA, a newsletter for the food industry, did a special edition on marketing innovations in protein-rich foods:
Once the preserve of sweaty men pumping iron, protein has emerged from an image overhaul as the ingredient of choice for product developers targeting men and women of all ages keen to battle the bulge and stay strong, lean and active as they age. In this FoodNavigator-USA special edition we explore consumer attitudes to protein, the latest market research, and how protein can fit into new product concepts in health and wellness, weight management, sports nutrition and more mass market products targeting women, boomers, and other groups.We also look at what protein options are available for formulators, from new algal-based proteins to pea, soy and milk proteins.
Learn to Pack a Protein Punch Customers Love (registration required for this one)
From Chobani to Special K: Are we on the cusp of a protein renaissance?
Selling protein to boomers (without talking about muscle wastage…):  As any self-respecting baby boomer will tell you, getting old is something that happens to other people, and being told you're not as sprightly as you once were is not the best way to get you to part with your hard-earned cash… 
Could algae be the next big thing in the protein market? Part one: Solazyme Roquette Nutritionals: Much has been written about the potential of proteins such as pea and canola as firms seek alternatives to dairy and other carbon-intensive – and increasingly pricey – animal proteins. But what about microalgae?.. 
Could algae be the next big thing in the protein market? Part two: Aurora Algae: Protein has never been hotter – at least that's what the market researchers tell us – and vegetarian proteins in particular are top of the pops right now… 
US pea protein market 'ready to explode': For a long time in the shadow of soy as a plant protein source, pea protein is establishing itself in food and beverage applications, with the US market set to explode, say industry experts… 
Cost and supply benefits are 'icing on the cake' for soy proteins: After a few years of difficult market conditions, the soy protein market is enjoying 'dynamic growth', but what does the future hold for this ingredient, and what kind of impact will the GMO issue have?.. 
Functional improvements drive demand for milk proteins: Continued development of new functional properties of casein and whey proteins will drive growth in their use and innovation in their applications in the coming year, said dairy experts… 
Fonterra consumer research reveals 'fantastic opportunity' to educate boomers on protein: If manufacturers can present them in a more appealing way, there is a huge untapped market in the US for higher protein products appealing to baby boomers looking to stay active, according to consumer research from dairy giant Fonterra Nutrition…
Have you had your P.L.A.Y. today? PepsiCo targets women with new protein product launch: PepsiCo is developing a novel protein-based product designed to appeal to women that "won't show up on a shelf the way you envision it", revealed bosses at its Nutrition Ventures arm at the Food & Nutrition Conference & Expo (FNCE) this week… 
And this just in, also from FoodNavigator-USA:   PepsiCo seeks to patent novel high-protein nutrition beverages in 4floz 'hydration units' as protein craze gathers pace