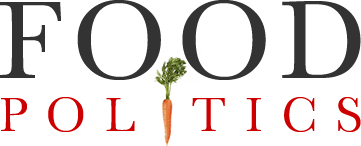 by Marion Nestle
Court turns down NYC 16-ounce soda cap; city will appeal
The  NY State Supreme Court, Appellate Division, has turned down the Bloomberg administration's appeal (New York Statewide Coalition of Hispanic Chambers of Commerce v New York City Dept. of Health & Mental Hygiene).
The court's decision in this case begins on page 22:
Like Supreme Court, we conclude that in promulgating this regulation the Board of Health failed to act within the bounds of its lawfully delegated authority. Accordingly, we declare the regulation to be invalid, as violative of the principle of separation of powers.

…we find particularly probative the regulation's exemptions, which evince a compromise of social and economic concerns, as well as private interests. As indicated, the regulatory scheme is not an all encompassing regulation. It does not apply to all FSEs [food service establishments]. Nor does it apply to all sugary beverages. The Board of Health's explanations for these exemptions do not convince us that the limitations are based solely on health-related concerns (pages 17, 18 of the decision).
OK.  So the city should have made the rule apply to all food service places and all sugary beverages.  Live and learn.
Mayor Bloomberg says the city will appeal:
Since New York City's ground-breaking limit on the portion size of sugary beverages was prevented from going into effect on March 12th, more than 2,000 New Yorkers have died from the effects of diabetes. Also during that time, the American Medical Association determined that obesity is a disease and the New England Journal of Medicine released a study showing the deadly, and irreversible, health impacts of obesity and Type 2 diabetes – both of which are disproportionately linked to sugary drink consumption. Today's decision is a temporary setback, and we plan to appeal this decision as we continue the fight against the obesity epidemic."
The American Beverage Association is pleased.  It's headline: "Hey New York – Your Beverage Is Still Your Choice!"
We are pleased that the lower court's decision was upheld.  With this ruling behind us, we look forward to collaborating with city leaders on solutions that will have a meaningful and lasting impact on the people of New York City.
Even if the city loses the final appeal, the 16-ounce soda cap is the writing on the wall for soda companies.
Sales of full-sugar sodas have been falling for years and getting worse for both Coca-Cola and Pepsi.
Cutting down on the portion sizes of sugary drinks is still a really good idea.
Here's what the news media say about it: