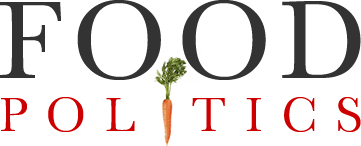 by Marion Nestle
You think the FDA gets to approve all food additives as safe? Not a chance.
I was invited to write the editorial to accompany a study published today in JAMA Internal Medicine looking at the highly conflicted process used to decide whether food additives are Generally Recognized as Safe (GRAS).
I know this sounds completely crazy, but here's what the study found:
Manufacturers get to decide whether food additives are safe or not.
Manufacturers get to decide whether to bother to tell the FDA the additives are in the food supply.
And if they do volunteer to inform the FDA (and many do),
Manufacturers get to decide who sits on the panels that review the evidence for safety.
In reading the study, it seemed to me that:
As long as not too many people roll over dead after eating foods with new additives, nobody will ever have a clue whether the additive is safe.
The regulatory gap has spawned an entire enterprise of GRAS consultants and GRAS consulting firms who are in the business—presumably lucrative—of providing the scientific documentation the FDA needs to determine additive safety.
Some of the consultants need to do a better job.  The FDA raises enough questions that about 15% (my estimate) of the requests would be denied.
The good news: If the FDA sees the safety documentation, it does its job.
But what happens to the rejected additives?  Or the ones that don't get voluntarily sent to FDA?
Nobody really knows (think: caffeine in alcohol drinks–the FDA had no idea).
We need a better food safety system in this country and conflicts of interests in GRAS additive approvals are a good place to start.
Here's what USA Today has to say about this (I'm quoted).