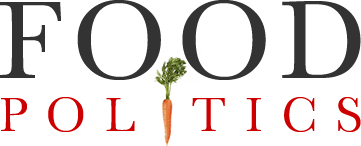 by Marion Nestle
McDonald's going healthy? Really?
At the White House Convening on food marketing to children a couple of weeks ago, representatives of food companies repeatedly stated that advocates are not giving them nearly enough credit for how hard it is for them to make and market healthier products.  They have shareholders to please.  They need positive reinforcement.
Pressures on advocates to applaud food companies' efforts may explain the furor last week over McDonald's latest promises to go healthy.  In a deal brokered with the Clinton Foundation's Alliance for a Healthier Generation, McDonald's announced its new initiatives in full-page newspaper advertisements (read the text here):
Among other promises, McDonald's said it would:
Promote and market only water, milk, and juice as the beverage in Happy Meals on menu boards and in-store and external advertising.
I did not participate in any of the press events so I can't vouch for what was said.  But it must have left the impression that McDonald's was dropping sodas as the default drink in Happy Meals (if parents wanted a soda for their kids, they would have to order one).
The Center for Science in the Public Interest (CSPI), for example, issued a press release: "Removing Soda from kids' meals among McDonald's improvements."
Ronald McDonald's slow march toward healthier meals made a major advance today, but a long road lies ahead for the company. Getting soda out of Happy Meals is historic progress that should immediately be adopted by Burger King, Wendy's, and other chains. Soda and other sugar drinks are leading promoters of obesity and diabetes and one day it will seem crazy that restaurants ever made this junk the default beverage for kids.
USA Today quoted CSPI's Margo Wootan:
The prospect of being able to easily order a value meal at McDonald's that's comprised of a burger, a small salad and bottle of water is a huge step forward, says Margo Wootan, director of nutritional policy at the Center for Science in the Public Interest. "It takes a meal from being a nutritional disaster (burger, fries and soft drink), to something that will fit a healthy diet.
But then folks started looking at the fine print of McDonald's actual agreement with the Clinton Alliance.
Uh oh.
CSPI issued another press release the next day: "McDonald's, Alliance for Healthier Generation, misled public and media re: soda and Happy Meals."
McDonald's and the Alliance for a Healthier Generation misled the media, CSPI, and families when they stated that the company would not feature, promote, or market soda in connection with Happy Meals. In briefings to health groups and in their press release and full-page newspaper ads, McDonald's and the Alliance claimed that the company would "promote and market only water, milk, and juice as the beverage in Happy Meals on menu boards and in-store and external advertising." But small print in McDonald's formal agreement with the Alliance states that "McDonald's may list soft drinks as [sic] offering on [sic] Happy Meal section of menu boards."
In any case, as McDonald's explains in its press release, don't hold your breath for any of its promises to happen soon:
All pieces of this commitment will be implemented in 30-50 percent of the 20 major markets within three years and 100 percent of the 20 markets by 2020.
In other words, McDonald's intends to carry out these promises in a third to half of most of its major national and international markets by 2016—three years from now.  It will fulfill the promises in these particular 20 markets by 2020—seven years from now.
Food companies, alas, do not make it easy to applaud them.
Promises are one thing.  Now, if they would actually do something to make and market healthier products….
Addition 1:  Let's Move! director and chef Sam Kass has this comment on McDonald's promises:
We are encouraged by the progress announced today…. Making it easier for families to choose a healthy beverage in kids' meals, and providing a salad option in the value menu are positive steps. A great deal of work remains to be done if we are going to ensure our children have the nourishment they need to live healthy lives and reach their full potential.
Addition 2: Here's an explanation of how the discrepancy was found, from its finder, Casey Hinds of Kentucky Healthy Kids.  Casey sent the link to Michele Simon who forwarded it to Margo Wootan (and I read about the exchange on Twitter).
Update, October 11: McDonald's clarifies its commitment; it will not advertise sodas with Happy Meals.