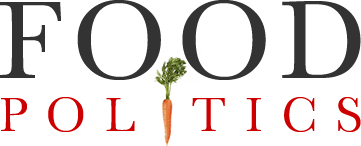 by Marion Nestle
Happy Food Day, 2013
October 24 is Food Day, which its organizer, the Center for Science in the Public Interest (CSPI), calls "a nationwide celebration of healthy, affordable, and sustainably produced food and a grassroots campaign for better food policies."
Food Day aims to help people Eat Real. That means cutting back on sugar drinks, overly salted packaged foods, and fatty, factory-farmed meats in favor of vegetables, fruits, whole grains, and sustainably raised protein. Food Day envisions shorter lines at fast-food drive-throughs—and bigger crowds at farmers markets.
Food Day is about taking personal responsibility for what you eat—what I like to call "voting with your fork."
Join the Movement: The most important ingredient in Food Day is you! Use October 24 to start—or celebrate—eating a healthier diet and putting your family's diet on track.
It is not, alas, about working to change policies that will make it easier for people to make healthier food choices.  For that, you must celebrate World Food Day on October 16 (and see post on that topic)—getting political and voting with your vote!
The food movement needs both (compromise on October 20?).
In honor of both, here's this from Eat, Drink, Vote.