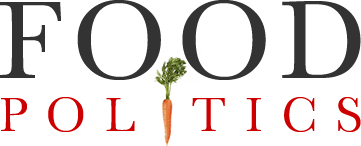 by Marion Nestle
Pew Commission on Industrial Farm Animal Production: Update
I was a member of this Pew Commission, which produced a landmark report in 2008: Putting Meat on the Table: Industrial Farm Animal Production in America.
Our report's conclusion: The current system of raising farm animals poses unacceptable risks to public health, to communities near Confined Animal Feeding Operations (CAFOs), and to the environment.
Our key recommendations:
Ban the nontherapeutic use of antimicrobials in food animal production.
Define nontherapeutic use of antimicrobials as any use in food animals in the absence of microbial disease or documented microbial disease exposure.
Implement new systems to deal with farm waste.
Phase out gestation crates, restrictive veal crates, and battery cages.
Enforce the existing environmental and anti-trust laws applicable to food animal production.
Expand animal agriculture research.
Recently, the Johns Hopkins Center for a Livable Future (CLF) did an in-depth analysis of what has happened with these recommendations.  Its dismal conclusion: The problems have only gotten worse.
Many hoped the release of the report, which occurred within a year of a change in the administration, would help trigger a sea change in the federal government's approach to regulating the food animal production industry…Early administrative appointments to top regulatory posts held promise for meaningful changes.

CLF's review of the policy-landscape changes in the five years since the release of the report paints a very different picture. Contrary to expectations, the Obama administration has not engaged on the recommendations outlined in the report in a meaningful way; in fact, regulatory agencies in the administration have acted regressively in their decision-making and policy-setting procedures.

In addition, the House of Representatives has stepped up the intensity of its attacks on avenues for reform and stricter enforcement of existing regulations, paving the way for industry avoidance of scrutiny and even deregulation, masked as protection of the inappropriately termed "family farmer."

The assaults on reform have not been limited to blocking policies…Instead, the policy debate…has shifted to the implementation of policies such as "ag-gag", agricultural certainty, and right-to-farm laws, all of which are designed to further shield unsavory industry practices from the eye of the public and the intervention of regulators.
This week, some of the Commission members answered questions from ProPolitico reporter Helena Bottemiller Evich.  Ralph Loglisci reports in Civil Eats on that meeting and his conversation with former Pew Commission director Robert Martin, who is now the Center for a Livable Future's Director of Food System Policy:
I think issues are going to drive change at some point. You've got this big group of people who want to see change. The problems of antibiotic resistance are worsening–the problems of 500 million tons of (animal) waste we produce each year are worsening and the ground in many areas of the country is really saturated with phosphorous. You can't transport the material, so you've got to disperse the animals. So, the problems are reaching really a crisis point. So that could really force action too.
Is there any hope?  It sounds like things will have to get worse before they get better.  But how much worse?
I wish there were better news.  Food safety, animal welfare, and environmental advocates: get together and get busy!