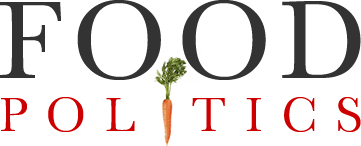 by Marion Nestle
Feds must take stronger action against salmonella
My monthly (first Sunday) column in the San Francisco Chronicle:
Q: When I read that people are getting sick from salmonella in Foster Farms chicken, I don't know what to do. Are we supposed to stop eating chicken?
A: I share your frustration.
Last month, the Department of Agriculture warned that chicken produced by Foster Farms plants in California was linked to illnesses caused by a strain of salmonella Heidelberg which is resistant to multiple antibiotics.
Although these antibiotics are not the ones usually used to treat salmonella, antibiotic resistance in general makes bacteria more virulent.
The Centers for Disease Control and Prevention now reports 362 people ill with this strain, three-quarters from California, with a shockingly high – 38 percent – rate of hospitalization.
And because most food-borne illness is never reported, some estimates suggest that there could be 9,000 cases of chicken-induced illness in California alone.
The USDA's response? It did not require Foster Farms to recall the chicken; it just told the company to clean up its act.
According to the USDA, it's your responsibility to make sure you don't get sick. You should be following basic household food safety rules, cooking chicken to 165 degrees, and using a food thermometer to make sure.
Fine, but shouldn't chicken be safe before it gets to you? You should not have to run your kitchen like a maximum-security biological laboratory.
Besides, cooking chicken to 165 degrees may not be enough. Costco, to its credit, recalled rotisserie – cooked – chickens from its store in South San Francisco when people reported getting sick after eating them. Nobody knows whether the cooking temperature wasn't high enough or the chickens got cross-contaminated later.
Salmonella, alas, is hardly a new problem. In 1971, public health advocates petitioned the USDA to put salmonella warning labels on chicken. But the USDA said no. Salmonella, it said, is an inherent contaminant of raw meat, not an adulterant. The USDA had no need to act. You just needed to learn how to cook chicken properly.
In the 1990s, the USDA finally issued better rules for poultry safety. Despite them, the CDC reports a steady rise in salmonella outbreaks and illnesses.
The industry responds that the salmonella issue is a complex one because the bacteria are inherent in bird species.
Sorry, but salmonella illnesses are preventable.
If people are getting sick from eating contaminated chicken, the companies are not following safety rules, and the USDA is not enforcing them.
This is about politics, not public health.
For decades, advocates have complained about the USDA's conflicting missions to promote agricultural production and protect consumer health. We have called on Congress to unite federal food safety oversight within one independent agency. Failing that, we insist that the USDA enforce its own rules.
The USDA's recent decision to allow American poultry meat to be shipped to China for processing is hardly reassuring. The mind boggles to think that chickens raised and slaughtered in America would go to China to be turned into chicken nuggets and then come back here to be sold.
Also for decades, safety advocates have called for an end to the use of antibiotics as growth promoters in meat and poultry production. Antibiotics not only induce resistance, they induce virulence. Fortunately, the Foster Farms bacteria are still susceptible to the kinds of antibiotics most effective against salmonella, but victims of the next outbreak may not be so lucky.
Why do Congress, federal agencies and the White House permit meat and poultry producers to continue reckless use of antibiotics? Chalk this up to industry lobbying and campaign contributions.
If you can afford it, buy chicken that has not been factory farmed. Even so, you must cook the meat to a temperature that will kill bacteria, avoid cross-contamination, and sterilize everything the chicken comes near.
But the salmonella problem goes way beyond your own kitchen.
We all need to press for a food safety system that holds public health as its first priority. This means empowering the USDA to enforce its own rules, uniting the functions of USDA and the Food and Drug Administration, and using antibiotics in meat and poultry production only for therapeutic purposes.
Marion Nestle is the author of "Eat, Drink, Vote," "Why Calories Count: From Science to Politics," "Food Politics" and "What to Eat," among other books. She is a professor in the nutrition, food studies and public health department at New York University, and blogs at www.foodpolitics.com. E-mail: food@sfchronicle.com