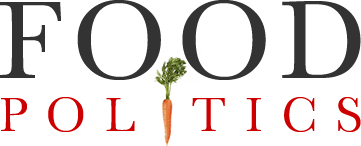 by Marion Nestle
In food politics too, money talks
Can money buy elections?  Apparently so.
Yesterday's election results indicate that the GMO-labeling initiative in Washington state and the soda tax initiative in Telluride, CO both failed.
Washington's I-522
According to USA Today, the defeat cost opponents $22 million.  All of that—except $550—came from out of state.
The top five contributors were the Grocery Manufacturers Association, Monsanto, DuPont Pioneer, Dow AgroSciences and Bayer CropScience.
But the Grocery Manufacturers Association was required to list its contributors.  The top five?  PepsiCo, Nestlé (no relation), Coca-Cola, General Mills, ConAgra  at about a million each when you add it all up.
USA Today reports:
Food industry ads claimed that the initiative would raise food prices. Labels would mislead consumers into thinking that products that contain genetically engineered ingredients are "somehow different, unsafe or unhealthy," said Brian Kennedy of the Grocery Manufacturers Association, a food industry group based in Washington, D.C.

The Yes on 522 campaigns emphasized consumers right to know what's in their food.
But PoliticoPro points out that because votes are mailed in, more than 600,000 votes may still be left to count.
The food and biotech industries used their considerable war chest to make ad buys across the state, pointing out all of the products that would not be covered under the measure — such as cheese, beer, restaurant food and even, they claimed, pet food — and pushing the message that the bill is misleading and would considerably raise food prices. They said the law would hurt Washington's farm families.
As I told USA Today, sooner or later, one of these is going to pass. At some point the industry is going to get tired of pouring this kind of money into these campaigns and will beg for labeling, which is what should have happened in the first place.
The Telluride soda tax
Telluride is a small town, so the amounts are much smaller.
According to ProPolitico, the Colorado Beverage Association installed an onsite lobbyist to generate opposition to the measure through meetings and an Internet site.
The largest donors to the opposition campaign were a Texas billionaire who owns a second home in Telluride ($55,000), and the the local and national beverage associations. were the largest contributors to the anti-tax campaign, giving $20,000 and $55,000 respectively.
Taxes, of course, are never popular even when intended for public health purposes, as this one was.
Soda taxes too, will pass eventually.
Patience and fortitude.
Addition: Here's the Washington State vote as of this morning.