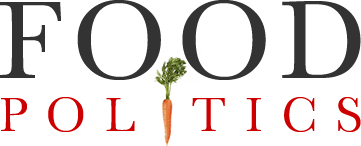 by Marion Nestle
Happy Thanksgiving: three reports on hunger and politics
New York City's Coalition Against Hunger has issued a new report on the city's Superstorm of Hunger.
Bread for the World's offers its 2014 Hunger Report: Ending Hunger in America
It comes with an Infographic summarizing the principal action points:
Create good jobs
Invest in people
Strengthen the safety net
Build strong partnerships
And Circa provides an illustrated, interactive (check the links!) account of an analysis by the Sunlight Foundation of how lobbyists and tax dollars affect the cost of your thanksgiving dinner.
The bottom line: Agribusiness spent $71 million on campaign contributions and $95 million on lobbying in 2012.  For example:
The National Turkey Federation — a member of an agricultural businesses coalition —has given $1.37 million in campaign contributions since 1989, focused mainly on the House and Senate Agriculture Committees. The group has also spent $3.58 million on lobbying during that time, taking aim at laws for turkey exports and antibiotic rules.
Enjoy your dinner!