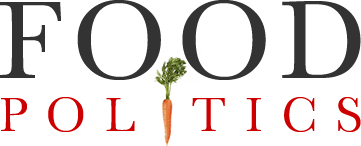 by Marion Nestle
Monsanto's PR campaign "begins with a farmer"
A week or so ago I mentioned Monsanto's concerns about its public image problem and its new PR campaign.
In Washington, DC last week, I saw what seem to be its first components in a hard copy of Politico (the online version doesn't seem to carry the same ads).
The December 11 issue carried two Monsanto ads, this one full page:
And this one half page:
What farmers?  Those that use Monsanto products, of course.
This is not the first time Monsanto has used ads promoting the virtues of farmers.  Here's one from a Monsanto campaign in 2001 that I used as an illustration in Safe Food: The Politics of Food Safety.
Will ads like these help improve Monsanto's public image?  You tell me.
Enjoy the weekend!