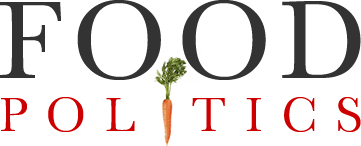 by Marion Nestle
Welcome to 2014: Fun Facts from Advertising Age
Advertising Age has just issued its 2014 Marketing Fact Pack with all kinds of useful tidbits.  Here is a sample:
McDonald's was the highest ranking food advertiser in 2012, meaning the company that spends the most money on "measured media," the kind that goes through advertising agencies: $1.424 billion, of which $957 million was spent in the U.S.  This doesn't count marketing that does not go through advertising agencies.
The top ten fast food restaurants spent $6.1 billion on advertising, just in the U.S. in 2012.
The top ten beverage brands spent $1.77 billion on U.S. advertising in 2012: Coca-Cola $243 million, Pepsi $274 million, Gatorade $101 million, etc.
TV is still the largest advertising medium (39%) followed by the Internet (19%), newspapers (15.5%), magazines, radio and outdoor and cinema.  This is the first year that the Internet has surpassed newspapers.
The Internet share of advertising is expected to rise to 31% by 2016.
Americans spent 271 minutes a day watching TV in 2013 and another 316 minutes on digital media.  Total minutes with any medium: 712 (but some of this is multitasking).
Nearly one in six adults watches more than 40 hours of TV a week.
Americans spent only 18 minutes a day reading newspapers.
The cost of a 30-second TV spot on The Simpsons is $231,532.
The cost of a 30-second TV spot on The Biggest Loser is $91,672.
The top 20% of Americans earned 51% of all income in 2012.
Mean income for all households was $71,274; for the lowest 20% it was $11.490; for the highest 20% $181.905.
Welcome to 2014!