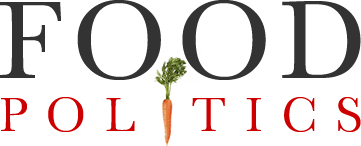 by Marion Nestle
Dietary Guidelines Committee under attack for caring about how food is produced
I received an e-mail from the communications director of the Independent Women's Forum, a group whose mission is to "improve the lives of Americans by increasing the number of women who value free markets and personal liberty."
Interesting.
The group and its friends have just sent a letter to USDA and HHS complaining that the 2015 Dietary Guidelines Advisory Committee (DGAC) is exceeding its mandate.
Among our most acute concerns is the "mission creep" of the Committee, which has expanded to include non-dietary factors such as "carbon footprints," "climate change," "urban agriculture," and "green cleaning and pest control practices."

This likely reflects the composition of the Committee, which is nearly all epidemiologists from elite academic institutions with no direct experience in the practical realities of how food is produced and what average Americans may choose to eat.

We need only consider the strongly negative reaction to recent changes to the school lunch rules to understand what is at risk if this Committee attempts to dictate over-reaching changes to the American diet.
This would be funny if it weren't part of the Republican agenda to roll back improvements in nutrition advice and practice aimed at preventing obesity and its related chronic diseases.
What the IWF is saying is that its members know better about what's good for health than all those elite epidemiologists, scientists, and other experts on the committee who are worried about what climate change will do to our food supply.
Let's hope the agencies ignore this letter.