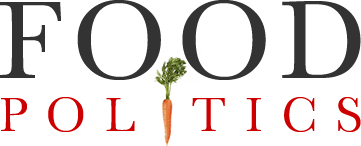 by Marion Nestle
Time Magazine: "Eat Butter." Maybe in moderation, please?
I love butter as much as the next person, but when I went to New York's Food Fest yesterday, the butter makers were all proudly displaying Time Magazine's provocative June 23 cover.
The cover story is by Bryan Walsh.
It comes with an even more provacative video–one of those "everything you thought you knew about diet is wrong" things.
I'm quoted in his article, but I wish he had quoted more of my comments about context.
He says saturated fat consumption is down, but heart disease is still the number one killer of Americans.
Yes it is, but not nearly as much as it used to be (as I discussed in a previous post):
Americans must be doing something right.
The big problem is type-2 diabetes.  It's going up in parallel with obesity: Fat calories and sugar calories contribute to obesity.
The dietary bottom line?  Eat your veggies, balance calories, and stay active.
Really, it's not more complicated than that.
But that kind of advice will never make the cover of Time, alas.
Addition, June 20: David Katz on how easy it is to misinterpret studies of saturated fat (or sugars for that matter) and health.