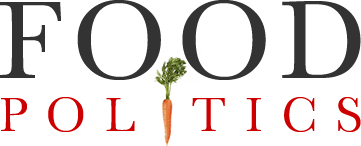 by Marion Nestle
Annals of food law: Peanut Corporation of America
OK, everyone is presumed innocent until proven guilty, and executives of the Peanut Corporation of America (PCA) are getting their day in court, accompanied by an aggressive legal defense.
According to Food Safety News, PCA's lawyers are claiming that the government's requests for disclosure documents are so egregious that the case should be dismissed.
Here's a comment on the case from Eat, Drink, Vote: An Illustrated Guide to Food Politics:
Irony alert: "egregious" is precisely the word I used to describe PCA's actions related to its Salmonella problems more than a year ago:
I've been following this particular food safety tragedy for several years now.  The offenses were so egregious—officials blatantly ignored positive tests for Salmonella, for example—that some kind of punishment seemed warranted.

According to the account in USA Today:

The indictment alleges that PCA officials affirmatively lied to their customers about the presence of salmonella in PCA's products," said Stuart Delery, principal deputy assistant attorney general.

Delery also said some officials at PCA, no longer in business, fabricated lab results certifying to customers that the products were salmonella free "even when tests showed the presence of salmonella or when no tests had been done at all."
If you would like to catch up on this endlessly fascinating case, in which contaminated peanut butter made 714 people in 46 states sick, here's Food Safety News' year-old timeline of its events.