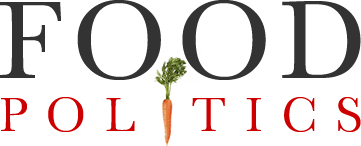 by Marion Nestle
Use of menu labeling: baseline data from USDA
USDA has a report out on consumers' use of nutrition information in restaurants before the menu labeling law goes into effect.
What law?  The menu-labeling provision that is part of the Affordable Care Act still—four years later—waiting for the FDA to get around to issuing final rules (I last wrote about this in April 2013).
In 2011, the FDA proposed rules for public comment, and proposed final rules in 2013:
These too were opened for public comment with the process expected to be completed in February 2014.  Oops.  Missed that one.
Rumors are that the FDA is under pressure from pizza chains and movie theaters to be exempt from the final rules, and that the White House is holding them up.  The White House has had them for 90 days.  That's supposed to be the limit.
According to Politico Pro Agriculture
It was three months ago today that the White House first received FDA's final rules for calorie labels on menus and vending machines, and by the Office of Management and budget's own rules, that means time is up. Interagency review at OMB is supposed to take no more than 90 days before the final release of a measure, though that timeframe is often extended with little explanation on more controversial initiatives. While OMB is always mum on its schedule for rule reviews and releases, the end of the standard review period is sometimes a hint that something will be coming, if not today — the day before a long weekend — then soon. In the meantime, brush up on the issue here: http://politico.pro/1mKNcFr and here: http://politico.pro/1lzZLDe
In the meantime, the USDA has done some research and come up with some interesting findings:
Among people who eat out, the ones most likely to use nutrition information on menu boards are those who:
Eat out less frequently
Have other healthy behaviors (such as having dark green vegetables at home).
Rate their diets as good.
Are women.
Participate in SNAP.
SNAP participants?  Really?  If true, SNAP participants are more eager for calorie information than the general population, and good for them!
These results explain much about the confusing findings from studies of New York City's menu labeling law.  These generally find no overall effect although calorie labels have a big effect on people who are conscious of health to begin with (me, for example).
FDA: how about getting out the final rules?  Then we can sit back and watch USDA economists compare what's happening to these baseline results.