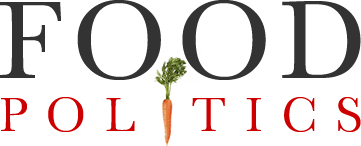 by Marion Nestle
For your food studies library: Books that Cook
I have a special interest in this book: I wrote its Foreword.  Here's an excerpt:
Books that Cook brings the food revolution into the study of English literature— brilliantly, deftly, and with no apologies. No apologies are needed. As editors Jennifer Cognard-Black and Melissa A. Goldthwaite explain, Food Studies necessarily encompasses literature. Basic food texts—cookbooks and recipes—are as much a form of literature as are fiction, non-fiction, memoirs, and poetry. And why not? They tell stories. They convey myths. They are replete with drama, symbolic meaning, and psychological insight.

Furthermore, they offer plenty to talk about: culture, religion, ethics, personal identity, and anything else that it means to be human. That food generates profound literary memories is famously known from what ensued after Proust dipped his madeleine in tea.  Writers of all time have used food memories to spark traditional literary texts. Today, we view cookbooks and recipes as equally worthy of literary analysis. Even recipes.
They used the end of the Foreword as a blurb:
Books that Cook propels the food movement and in doing so makes a political as well as a literary statement. It makes a difference. Read it. Savor the writings. Delight in them. Think about them. And if they inspire you to do your own writing about food, so much the better.
I also have a special interest in one of the editors, Jennifer Cognard-Black.  I've never met her, but I contacted her after reading an article she wrote for Ms Magazine.  The article, The Feminist Food Revolution, comes with this description:
From farms to community gardens to restaurants, women are taking food back into their own hands.  So why do men keep getting all the credit?
This last phrase got my attention, particularly because she mentions me in the article.  Interesting, no?
The Foreword was fun to write and the book is fun to read.
Thanks Jennifer, Melissa, and NYU Press for this contribution to food studies, published today, and most welcome.