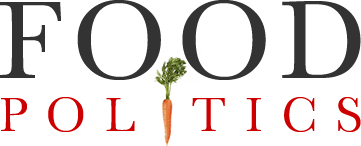 by Marion Nestle
More on food trade: the Transatlantic Trade and Investment Partnership (T-TIP)
Here's another post on US food trade agreements.  This is a hot topic right now but so complicated—so many agreements and policies, and so many look-alike abbreviations—that the specific policies are not easy to understand.
As I mentioned in a previous post on the Trans-Pacific Partnership (TPP) Agreement, The US has trade agreements with 20 countries, and believes these provide many benefits such as "fueling economic growth, supporting good jobs at home, raising living standards and helping Americans provide for their families with affordable goods and services."
Trade negotiations must create win-win situations for both partners, or they fail.
They run into trouble when one partner has higher food safety standards than another.
T-TIP: The Transatlantic Trade and Investment Partnership
Americans may hardly have heard of the Transatlantic Trade and Investment Partnership (T-TIP),but it has caused large public protest demonstrations in Europe.
T-TIP, according to the US Trade Representative, is
an ambitious, comprehensive, and high-standard trade and investment agreement being negotiated between the United States and the European Union (EU). T-TIP will help unlock opportunity for American families, workers, businesses, farmers and ranchers through increased access to European markets for Made-in-America goods and services. This will help to promote U.S. international competitiveness, jobs and growth.
The EU puts the matter more succinctly.  TTIP (no hyphen), the EU says
aims at removing trade barriers in a wide range of economic sectors to make it easier to buy and sell goods and services between the EU and the US.
Sounds good, no?
As PoliticoPro explains, "U.S. ambassadors heart TTIP."  It reports that the US ambassador to Sweden went on a 7-day, 400-mile bicycle ride wearing a TTIP tee-shirt to sell the agreement "to small businesses, local political leaders and everyday citizens" through videos describing its benefits.  And,
In Germany, the U.S. embassy is offering grants of $5,000 to $20,000 for activities promoting the trade deal, while American diplomats in the Netherlands have upped the awards to $24,000.
Why the heavy sales pressure?
It turns out that plenty of people do not "heart" the deal.  In the TTIP regulations are provisions that would
Allow foreign companies to sue governments over regulations that damage business, even if they put consumers at risk.
Allow harm to the environment.
Reduce EU food safety standards: bring U.S. poultry rinsed with hyperchlorinated water into Europe, for example.
Protect regional food names like Parmigiano-Reggiano (the US doesn't like this one)
The EU denies that these are problems.
On the other hand, a new report out from the European Parliament says that while reducing tariffs will increase agricultural exports from the EU to the US by 60%, and imports from the US by 120% (by 2025), there are some risks to EU producers, especially those producing beef and suckler cows.
Unless the US and EU achieve "regulatory convergence," meaning similarity in standards, EU producers may face the increased costs of complying with their own more stringent regulations in use of GMOs, use of pesticides, and food safety standards for meat.
The secrecy issues
Like other trade negotiations, T-TIP negotiations are exempt from the usual transparency requirements.  The EU explains why:
For trade negotiations to work and succeed, you need a certain degree of confidentiality, otherwise it would be like showing the other player one's cards in a card game.
For a quick explanation of the secrecy and other concerns, see the video "TTIP: A Race to the Bottom" produced by The Greens/European Free Alliance.
The Greens point out that Corporate Europe Observatory, which tracks lobbying on TTIP, has
focused on the agribusiness sector showing that food multinationals have taken the largest share of Commission lobbying efforts for TTIP. There are fears such efforts have resulted in a corporate capture of the TTIP agenda, driven by some of the largest companies operating in both regions. It is likely to further add to calls for greater transparency in the negotiations, and may even risk stalling the deal altogether if efforts are not made to address public concerns surrounding its secrecy.
The Institute for Agriculture and Trade Policy (IATP) is especially concerned about the secrecy of negotiations over the food safety provisions.   Negotiations, IATP says
are conducted largely as if they were private business deals. Despite many public interest issues that are subject to "least trade-restrictive" criteria in the TTIP and other so-called Free Trade Agreements, access to draft negotiating texts is restricted to negotiators and their security-cleared advisors, overwhelmingly corporate lobbyists. About 85 percent of 566 advisors to the U.S. Trade Representative (USTR) come from various industry sectors.
The IATP's analysis of leaked drafts of the agreement is enough to explain why trade agreements are so hard for mere mortals to fathom.  Lobbyists, however, are paid to know exactly what the provisions are, what they mean, and how to make sure they are worded to benefit their corporate employers.
Stay tuned.