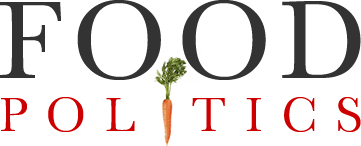 by Marion Nestle
Congress vs. EPA's Clean Water Act
I'm trying to understand what's going on with the bill the House passed on Tuesday to prevent the Environmental Protection Agency (EPA) from doing what it proposed to do last April: define its ability to protect bodies of water in the United States against agricultural pollution.
Specifically, the EPA proposes that under the Clean Water Act, it can enforce pollution controls over:
Most seasonal and rain-dependent streams.
Wetlands near rivers and streams.
Other types of waters that have uncertain connections with downstream water (these will be evaluated on a case-by-case basis).
The Clean Water Act gives EPA the authority to set wastewater standards for industry, including agriculture.  The Act
Establishes the basic structure for regulating pollutant discharges.
Grants EPA authority to implement pollution control programs.
Sets water quality standards for contaminants.
Makes it unlawful to discharge pollutants without a permit.
The Clean Water Act most definitely applies to agriculture:
According to the account in The Hill, the bill prohibits the EPA from establishing any regulations based on the proposals.
The EPA says the proposals do not expand the agency's existing authority over US waters.
But Republicans, joined by some Democrats, say the proposals expand EPA jurisdiction over trivial bodies of water.
Trivial, of course, is a matter of perception.  Agricultural pollutants cause much damage to US waterways.  The proposals are aimed at containing some of the damage.
No wonder agribusiness wants to stop EPA from enforcing the Clean Water Act's provisions.
The White House says it will veto the bill.  Let's see what happens in the Senate.