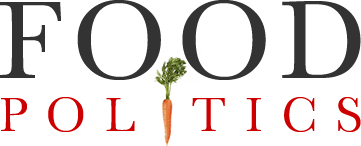 by Marion Nestle
The latest report on food marketing to kids: Healthy Eating Research
Healthy Eating Research (HER), a group sponsored by the Robert Wood Johnson Foundation, has just released a report on food marketing to kids, an issue brief with recommendations, and an Infographic summarizing the report's major points.
The recommendations are aimed at the food industry's voluntary guidelines for what and how junk foods can be marketed to kids.  These are famously weak and HER set out to tweak them to make the recommendations stronger.
This report provides an excellent summary of what's wrong with marketing to kids.
But its recommendations are disappointing.  Here they are from the Infographic:
These are undoubtedly too small for you to read and, in any case, are written so tentatively—they do not use the word "should"—that they require translation.  Here's mine:
Guidelines for food marketing should apply to:
Kids age 14 or younger (not 11)
Audiences containing 25% or more of kids under age 14 (not 35%)
Both food products and brands (not just products).
All marketing aimed at kids, everywhere kids are (not just TV or Internet)
These are tweakings of voluntary guidelines.
I don't see the point.  If we really want the food industry to stop marketing unhealthy foods and drinks to kids, the guidelines can't be voluntary and tweakings are unlikely to help.
Food marketing to kids is flat-out unethical and should stop.
The industry will never do this voluntarily.
That's the issue such reports need to address.