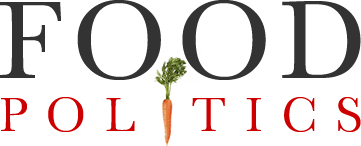 by Marion Nestle
World Health Organization: Eat less sugar
The World Health Organization (WHO) has finally officially released its recommendations for sugar intake.  I say "officially," because I posted an earlier version these guidelines late in January.
The new—and official—WHO guideline, "Sugar intake for adult and children," makes these recommendations for adults and children:
For general health, Reduce daily intake of free sugars to less than 10% of total energy intake.
For additional health benefits: Reduce daily intake to below 5% or roughly 25 grams (6 teaspoons) per day.
This recommendation is based on a scientific review as well as comments by groups such as Center for Science in the Public Interest.
The British advocacy group, Action on Sugar, is disappointed in the recommendations, thinks they don't go far enough, and suspects that heavy food industry lobbying was at work.
There is absolutely NO nutritional requirement for free sugars in our diets, therefore AoS is disappointed that the 5% recommendation is conditional. The WHO used the GRADE[Grading of Recommendations Assessment, Development and Evaluation] system for evaluating the evidence which is useful for drug trials, but is not appropriate for the links between diet and health. This has allowed the food industry to sow the seeds of doubt amongst the WHO, who have failed to come up with the strong recommendation that is so vitally needed, especially for children.
On the other hand, the food industry says the recommendations are misleading and based on weak evidence.
The US Sugar Association [said]…Such a claim is serious, and requires high-quality data, particularly given the potential for consumer confusion and the likelihood that the economic impact to developing countries will be severe. There was a need for extensive debate, especially before the 5% value was included in official recommendations, said the European Committee of Sugar Manufacturers (CEFS). "Especially because the data this value is based on was deemed to be of very low quality by both WHO and the dental health review authors," it said…. The sugar industry said that sugar in isolation could not be blamed for obesity and asked people to focus on what the WHO defined as the primary cause of obesity: an imbalance between calories and activity.
The WHO recommendations are similar to those issued for decades by national health agencies.  The last time WHO tried to issue the 10% of calories advice in 2003, it got clobbered by lobbyists.
This time, lobbyists didn't succeed.  This is progress.
Tomorrow: more on sugar lobbying.