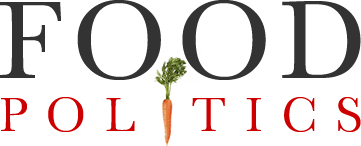 by Marion Nestle
Three studies on school food: Nutrition standards work, and well
The School Nutrition Association's bizarre opposition to the USDA's nutrition standards for school meals has stimulated research.
Three studies show the benefits of healthier school meals.
1.  From The Rudd Center, now at U. Conn: A press release announces publication of its new study in Childhood Obesity demonstrating that the rules have led to an increase in fruit consumption without increasing plate waste.
USDA, understandably pleased with this result, quotes Secretary Tom Vilsack in a press release:
For Congress to meddle with doctors' recommendations and go back to less healthy meals now would not be in the best interest of our children.
2.  From the Harvard School of Public Health: It also sends a press release to announce its study demonstrating that an increase in consumption of fruits and vegetables is a direct result of the new USDA standards, and that these also do not increase plate waste.
3.  From the Union of Concerned Scientists: UCS announces a new position paper, "Lessons from the Lunchroom: Childhood Obesity, School Lunch, and the Way to a Healthier Future," also documenting why school meals are so important to kids' health. This report comes with an explanatory Infographic.
All of these aim to head off congressional opposition to the new standards and keep them in place.
Let's hope this science-based strategy does some good.
Postscript:  Dana Woldow argues that the school food scene would be much easier if schools actually got enough money to pay for what they serve and for decent wages to school food service workers.