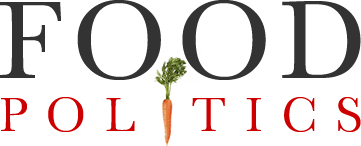 by Marion Nestle
What's up with the Trade Promotion Authority act?
What's going on with the Trade Promotion Authority act (TPA) has lots of people worried.   The bill, known as "fast track," allows President Obama to make trade agreements that Congress can approve or reject, but cannot change.
The Senate passed the TPA.  It now goes to the House.
USDA Secretary Tom Vilsack issued a congratulatory statement:
Today the Senate helped move America closer to securing responsible agreements that open markets for America's farmers, ranchers and agribusiness and create jobs and improve wages across the country…Our farmers and ranchers face exorbitant tariffs and others barriers in important foreign markets, and if we do not act to maintain and gain market share in these places, our competitors will.
On the other hand, 2009 labor, environmental, family farm, consumer, faith, Internet freedom and other organizations oppose the TPA.  They say "Fast Track is rigged to give special rights to corporations at the expense of workers and consumers."
In an article in the American Journal of Public Health last year, tobacco researchers explained the problem:
International trade agreements relocate decisions about tobacco control policy to venues where there is little opportunity for public scrutiny, participation, and debate…"Fast-track authority," in which Congress cedes ongoing oversight authority to the President, further distances the public from the debate.
As I explained in previous posts on the Trans Pacific Partnership (TPP) and the Transatlantic Trade and Investment Partnership (T-TIP), trade agreements:
Are conducted in secrecy
View safety regulations and matters such as country-of-origin labeling (see yesterday's post) as trade barriers
Allow multinational corporations to sue governments for passing laws that might affect corporate profits
I'll be trying to keep up with what's going on with trade agreements.  Stay tuned.