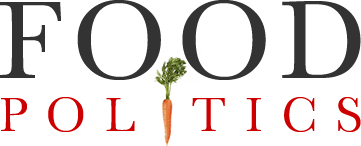 by Marion Nestle
Sugar politics: a roundup of recent events
While I was visiting Cuba, formerly the largest supplier of sugar to the United States and now blocked from selling anything to us, I missed several stories about sugar.  It's time to catch up with them.
On this last item the Post explains:
While other crop subsidies have withered, Washington's taste for sugar has been constant. The sugar program, which has existed in various forms since the 1930s, uses an elaborate system of import quotas, price floors and taxpayer-backed loans to prop up domestic growers, which number fewer than 4,500.

Sugar's protected status is largely explained by the sophistication and clout of a small but wealthy interest group that includes beet farmers in the Upper Midwest, cane growers in the South and the politically connected Fanjul family of Florida, who control a substantial part of the world sugar market.
Attempts to get rid of the sugar program have been constant, at least since the 1970s when I first started teaching about it, but to no avail.  Why not?  Because outrageous as the program is, it only costs the average American $10 per year—not enough to generate widespread opposition, apparently.
The bottom line on all this: eating less sugar is always a good idea.