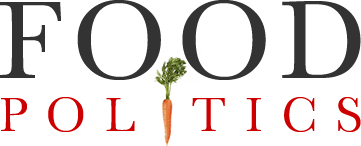 by Marion Nestle
House to block GMO labeling tomorrow?
Ordinarily I don't pay close attention to early congressional legislative initiatives until they seem likely to be passed by both houses and signed by the President.
But the House seems likely to pass the Safe and Accurate Food Labeling Act of 2015 (HR 1599) tomorrow, and what's happening with it is worth a look.  Opponents call the bill the "Denying Americans the Right to Know (DARK) Act."  (Update July 23: the House passed the bill with a vote of 275 for and 150 against, with the help of African-American representatives).
The purpose of HR 1599 is to block states—like Vermont, for example—from requiring labels on GMO foods [see details below at *].
How it works is best seen in the amendments that will be considered tomorrow.  Of the 14 amendments proposed, the House Rules Committee will allow discussion of these four.
Rep. Peter DeFazio, D-Ore:  if a U.S. company or subsidiary labels a product as containing GMOs in any foreign country, it must label the equivalent product the same way in the United States.  (

Defeated 122 to 303

)
Rep. Jared Huffman, D-Calif: ensures tribal sovereignty to prohibit or restrict the cultivation of GMOs on tribal lands. (

Defeated 196 to 227

)
Rep. Rosa DeLauro, D-Conn: prohibits use of the term "natural" on GMO foods. (

Defeated 163 to 262

)
Rep. Chellie Pingree, D-Maine: strikes the entire bill and creates a USDA non-GMO certification program and label. (

Defeated by voice vote

)
In an op-ed in the Boston Globe, Reps. Chellie Pingree and Jim McGovern say "Let consumers decide for themselves."
Americans want more information, not less. What we need is one law that makes GMO labeling mandatory across the country and establishes a single national standard that eliminates confusion and puts consumers in charge.

This debate isn't about the safety of GMOs. It's about consumers' right to know what's in the food they put on their tables. We ought to give them that right.
It's interesting to see who is for this bill, and who against. One major proponent is the Grocery Manufacturers Association, which joined 475 other members of the industry "front group," the Coalition for Safe and Affordable Food, in signing a letter in support.
Those opposed include the National Organic Coalition and the Just Label It campaign.   Also opposed are Food Democracy Now and the National Farmers Union, along with a long list of farm, consumer, and environmental groups.
Even if the House passes the bill, nobody in the Senate seems interested in it as yet.  So maybe this is all just theater.
But I read it as acknowledgment by the GMO industry and its food product supporters that the labeling issue is not going to go away.  Therefore, they had best try to preempt it by passing a law they can live with and making sure that states do not pass their own, stronger bills.
Stay tuned.
*Addition: I received a request to unpack the bill and state its terms.  HR 1599:
Calls for premarket notification of new GMOs introduced into the food supply.
Says the process of GMO is not sufficient to require labeling.
Says non-GMO labeling cannot imply that non-GMO is safer.
Blocks voluntary non-GMO labeling.
Prevents states from requiring GMO labeling.
Allows the term "natural" on labels of GMO foods.
Establishes a non-GMO certification program requiring process controls and preemption of state laws.
Update, July 27: According to OpenSecrets.org, representatives who voted against GMO labeling received three times as much money from agribusiness as those who did not.  OpenSecrets calls this a "cash crop."