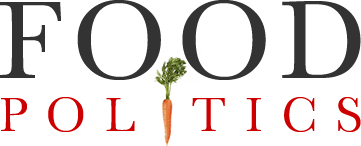 by Marion Nestle
Think pizza should list calories? Sign on.
Remember menu labeling?
The Affordable Care Act (now ruled constitutional) instituted national menu labeling—the posting of calories on the menu boards of fast food chains.
The FDA still has not issued final rules, leaving vast amounts of time for lobbying and pushback.
Now John Carter (Rep-TX) has introduced HR 6174, the anything but "Common Sense Nutrition Disclosure Act of 2012."
This bill was introduced under lobbying pressure from the pizza and supermarket industries.
Its purpose is to exempt supermarkets and convenience stores from having to post calorie information on prepared foods.  This would allow pizza chains to list calories per serving, thereby defeating the entire purpose of the menu labeling law.
The pizza industry learned that it could get Congress to do what it wanted.  Even a dab of tomato paste on pizza now counts as a vegetable serving in school meals.
If you thing calorie labeling on pizza might be a good idea, now is the time to write your congressional representatives.  Here's how.