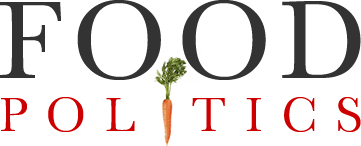 by Marion Nestle
Our endlessly arcane and unhealthy sugar policy
While we are on the topic of sugars (see previous post) I saw this ad on the Hagstrom Report.  I wondered what it was about.

I went to the American Sugar Alliance website to look.
Legislation introduced by Congressman Ted Yoho (R-FL) to end global sugar subsidies in favor of a free market has picked up key endorsements in recent weeks, including many conservative organizations and numerous lawmakers.

Yoho's bill would instruct the administration to target the foreign sugar subsidies that are distorting world prices. Once foreign subsidies are eradicated, U.S. sugar policy would be eliminated.
If I understand this correctly, Congressman Yoho is offering a trade:  If foreign governments of sugar-producing countries will stop subsidizing their countries' sugar producers, we will stop charging tariffs on the sugar we import from them and we will end our quota system for sugar beets, both of which keep U.S. sugar prices considerably higher than world market prices.
For decades, U.S. Presidents have pledged to fix sugar policies (see my post explaining how they work), but they always get stopped by the well organized interests of the U.S. sugar industry—the producers of cane and beet sugar.
Current policies result in higher sugar prices for consumers but since the higher costs average out to only about $10 per person per year, nobody gets too upset about them.
European sugar quotas are supposed to end this year.  Whether they will is uncertain.
But wait!  Maybe higher sugar prices are a Good Thing.  Higher prices generally discourage consumption.
Clearly, these higher prices are not high enough.  This graph shows trends in the availability (not really consumption) of sugars in the food supply per capita, in pounds per year.
The good news: Total sugars have been declining in the food supply since about 2000 and now "only" amount to about 100 pounds per person per year.
Most of the drop is in the availability of cane and beet sugars (sucrose), now down to just over 40 pounds per capita.
The not-so-good news:  Sucrose (glucose and fructose) is being replaced by corn syrup (glucose) and high fructose corn syrup (glucose and fructose).
The bottom line: just about everyone would be healthier consuming less of any kind of sugar.