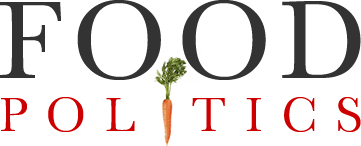 by Marion Nestle
Weekend reading: the politics of organic foods
Lisa F. Clark. The Changing Politics of Organic Food in North America. Edward Elgar Publishing, 2015.
I did a blurb for this one.  It's right up my alley.
Lisa Clark's scholarly account of the development of the organic movement in the United States and Canada beautifully explains the decades-long transition from understanding organic production as inextricably tied to healthy soils, communities, and social justice ("process-based") to views of organics as meeting certain standards for marketing purposes ("product-based"). Read this book and you will care deeply about the difference in these views as well as understand current debates about the future of organics.
In case you want to know why I favor organics, I do so from a process-based perspective.  I like what organics do for soils, communities, and social justice.  This book does a great job of explaining the basis of the debates over these issues.