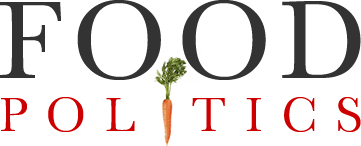 by Marion Nestle
Sugars for toddlers: an invitational roundtable from The Sugar Association
This week, I'm going to be posting items about sugar politics.
Item on sugars #1:
Funny thing.  I was not invited to this event, but someone who was invited passed along the invitation.  You too will be sad you weren't invited.
I am contacting you at the request of Dr. Courtney Gaine, VP of Scientific Affairs from The Sugar Association, regarding an invitational roundtable on The Role of Sugars in Supporting a Nutrient-dense Diet for Toddlers, 12 to 24 Months.  It will be sponsored by the University of Colorado, Anschutz Medical Campus, Department of Pediatrics, chaired by Dr. Ronald Kleinman from Harvard Medical School, co-chaired by Dr. Frank Greer from the University of Wisconsin School of Medicine, and facilitated by Sylvia Rowe.  The roundtable is supported by an unrestricted educational grant from the Association….

Roundtable Objectives

Provide a forum to discuss the science and research voids on the role of sugars as a strategy that may help parents successfully transition their older infants and toddlers (12 to 24 months) from complementary infant foods to consuming a variety of nutrient-dense foods from the family table.
Generate potential research ideas and questions on this topic for future guidance on the feeding of young children, including birth to 24 months, which is scheduled for integration into the 2020 Dietary Guidelines for Americans.
Create the impetus to extend this research to public-private partnerships with industry, academy and the government.

Proposed Topic Areas 

The roundtable has been tentatively divided into these 5 topic areas: 1) transitional toddler feeding and nutrition policy; 2) physiology; 3) sugars in toddler feeding practices; 4) parent-feeding strategies: emerging science; and 5) the research path forward….

Honorarium 

The Sugar Association will reimburse you for all reasonable travel expenses, plus a $2,000 honorarium for your review of abstracts and presentations, which you will receive in mid-October, and your participation in the 1 ½ day roundtable.
This requires some translation.  I may be over-interpreting here, but as I see it, the Sugar Association is paying academics $2000 to implicitly endorse:
Promoting the use of sugar as a way to get toddlers to eat healthier foods.
Making sure the 2020 dietary guidelines say nothing about the need for kids to eat less sugar (we don't even have the guidelines for 2015 yet).
Making sure that government agencies don't advise or set policies to encourage eating less sugar.
Sigh.