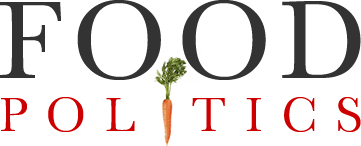 by Marion Nestle
FDA is taking comments on "natural"
I'm always indebted to Food-Navigator-USA for spot-on commentary on current food politics.  Here, for example, is Elaine Watson on the FDA's amazing decision to take comments on the meaning of "natural" on food labels.
Having studiously avoided this food labeling minefield for years, the Food and Drug Administration (FDA) has surprised many in the trade by seeking comments on the definition of a word that has launched a thousand class action lawsuits (well almost): 'natural'.
Her piece is worth reading for its excellent reporting and interviews with industry stakeholders.
About "natural," the FDA has said:
From a food science perspective, it is difficult to define a food product that is 'natural' because the food has probably been processed and is no longer the product of the earth. That said, FDA has not developed a definition for use of the term natural or its derivatives. However, the agency has not objected to the use of the term if the food does not contain added color, artificial flavors, or synthetic substances.
Now petitions have induced the FDA to seek comments, the first step in its standard rulemaking processes.
Specifically, the FDA asks for information and public comment on questions such as:

—Whether it is appropriate to define the term "natural,"

—If so, how the agency should define "natural," and

—How the agency should determine appropriate use of the term on food labels.
"Appropriate" in this context translates as:  Should high fructose corn syrup be considered "natural?" (The FDA said yes in 2008).   How about GMOs? (the FDA's position on GMOs is that they are not materially different from any other kind of food).
To file comments on these and other questions,
For electronic submissions, go to Regulations.gov and search for docket number FDA-2014-N-1207.
For submissions by mail, use the following address. Be sure to include docket number FDA-2014-N-1207 on each page of your written comments.  Division of Dockets Management, HFA-305, Food and Drug Administration, 5630 Fishers Lane, Room 1061, Rockville, MD 20852