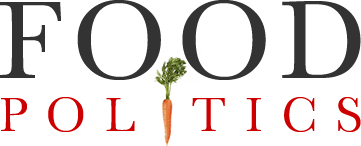 by Marion Nestle
McDonald's joins the food movement???
McDonald's ran a full-page ad in yesterday's New York Times:*
"At McDonald's we're on a journey: What's important to you is important to us."
The ad says McDonald's is taking these actions [with my comments]:
Removed artificial preservatives from Chicken McNuggets and other items [Fine, but no big deal in my book.]
Removed high fructose corn syrup from hamburger buns [And replaced it with what?  Sugar?  This matters? I'm guessing the price of HFCS must be close enough to the price of sugar to make this possible.]

*

*

Committed to only source chickens that have not been treated with antibiotics [OK.  Now we're talking important.  For this alone,  McDonald's deserves high praise.  My only question: by when?]

***

 
The ad also summarizes the company's additional actions, done and promised:
Burgers are 100% beef
Eggs are freshly cracked
Salads feature baby spinach, kale, Tuscan red leaf lettuce, and carrots
Buttermilk chicken uses real buttermilk
Milk is sourced from cows not treated with rbST
2 billion sides of fruit were served (including 59 million clementines)
Espresso beans are Rainforest Alliance Certified
Eggs will be cage-free by 2025
Amazing, no?
It's worth a field trip to see how all this works in practice.  I'm on it.
Additions, corrections, and updates
*Jill Cornish writes that the ad also appeared in the Washington Post.

**I get a Bingo for this one.  Martijn Katan writes: "The price of beet sugar fell below that of HCFS in April 2015. By June 2016, 1 lb of HFCS-55 cost $0.412 as opposed to $0.297 for beet sugar."  He even sends a reference: www.cornnaturally.com/Economics-of-HFCS/price-calculator.aspx

***Andy Smith points out that "In 2015, McDonald's announced that it would stop buying chicken raised with non-therapeutic, medically-important antibiotics by 2017– but a few weeks ago announced that it had already done so."  He too provides a reference: See QSR. "McDonald's Eliminates Antibiotics From Its Chicken," QSR Magazine, August 2, 2016. Retrieved at https://www.qsrmagazine.com/news/eliminates-antibiotics-its-chicken.
Thank you readers!  Much appreciated.