The FDA says use of medically important antimicrobial drugs in food animals decreased by 3% between 2019 and 2020  (For details, see the full report).
Is this good news or not.  Use is down from 2015-2016, but up from 2017.  As Wired puts it, "Antibiotic Use in US Farm Animals Was Falling. Now It's Not."
According to the Natural Resource Defense Council, use of antibiotics as growth promoters in food animals is still a big problem, with lots more going for use in animals than in humans.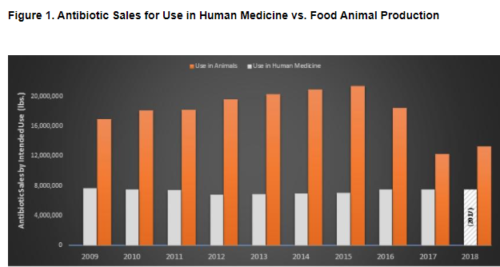 Or, to be a bit more precise:
The Pew Foundation thinks much more needs to be done to limit use of antibiotics in food animals.
FDA: get on this please.