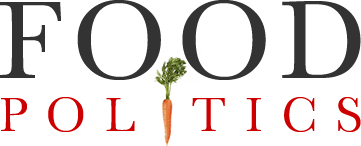 by Marion Nestle
Some hopeful news on the chemicals-in-food front
Three items for a happy Valentine's day
I.  Food animal producers are using fewer antibiotics
According to a report from the FDA, U.S. sales of antibiotic drugs decreased:
By 33% from 2016 through 2017.
By 43% from 2015 (the year of peak sales) through 2017.
By 28% from 2009 (the first year of reported sales) through 2017.
Of antibiotic drugs sold, these estimated percentages were intended for use in these animals
42% for cattle
36% for pigs
12% for turkeys
5% for chickens
5% for other species or unknown
These percentages of these antibiotic drugs were intended for use in cattle
80% of cephalosporins
72% of sulfas
48% of aminoglycocides
44% of tetracyclines
These were intended for use in swine
84% of lincosamides
40% of macrolides
These were intended for use in turkey
61% of penicillins
II.  The Farm Foundation and The Pew Charitable Trusts have produced this framework for judicious use of antibiotics.
III.  USDA tests for pesticide residues mostly find low levels
USDA has issued its annual summary report on the results of its pesticide sampling of fresh and processed fruits and vegetables.
The good news: Half the samples tested had no detectable residues.
But try and get your head around this:
Three samples of kale (2 from California and 1 imported from Mexico) contained residues of 17 pesticides.
Excuse me, but 17 different pesticides to grow kale?
OK, "none of the residues found on the kale samples exceeded the established tolerances," but still.
Could be worse, but could be a lot better.
Organics, anyone?