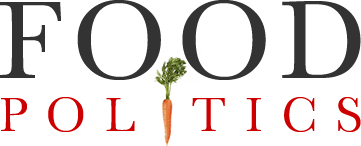 by Marion Nestle
Trump would dismantle the FDA's food safety rules?
Presidential candidate Donald Trump gave a speech to the Economic Club of New York about his tax reform plan to "make America great again."
The plan would eliminate some programs he finds annoying, the FDA's food safety regulations among them.
The tax plan, including the FDA provisions, was posted on Trump's website, but it is no longer there.
Fortunately, @nycsouthpaw did a screen capture and posted it on Twitter.  Among other things, Trump would like to eliminate:
Food safety lawyer Bill Marler, who begs producers of unsafe food to "put me out of business" is getting his wish and notes how well the new food safety rules are working.  He says Trump must love him: Killing the FDA is good for business:
How did "The Donald" know that my business has dropped over the last few years as the regulatory work of our governmental agencies have kicked into gear.
Who knew that food safety would be an issue in this year's election, let alone Skittles.