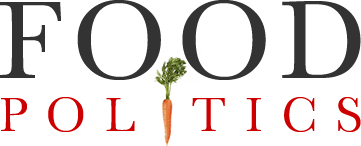 by Marion Nestle
Food Politics Alaska Style: School Meals
I was in Alaska last week and got to spend a few days in Utqiagvik, the town formerly known as Barrow—thanks to an invitation from diabetes educators Angela Valdez and Laura Thomas.
Utqiagvik/Barrow is the northernmost city in the United States, several hundred miles above the arctic circle.  It has a population of about 4000, of which 60% are Inupiak, historically and today subsistence whale hunters.  
I visited the Fred Ipalook elementary school and observed its USDA federally subsidized lunch program for  100% of the kids. 
The meal consisted of a frozen juice cup (made from multiple juice concentrates), and previously frozen mashed potatoes, corn, and a steak patty.  All kids got the requisite carton of milk.
The lunch period was barely 20 minutes.  The littlest kids barely had time to eat the frozen juice, which they all ate first.
These kids don't drink milk (for reasons of culture and lactose intolerance) and the milk cartons were mostly thrown out.   This seemed especially wasteful because milk is expensive here.  All foods are flown in and heavy ones cost a lot to send.
I wondered about alternative sources of vitamin D for kids who don't drink milk (whale blubber for those who have it?).
Sunshine is not an option.  Here, for example, is my tourist photo taken at 11:00 a.m.  The sun never makes it over the horizon this time of year.
Tomorrow: Utqiagvik/Barrow supermarket and some comparison price shopping.