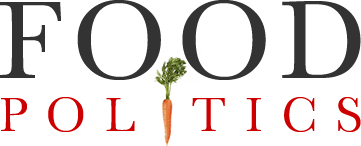 by Marion Nestle
Food marketing to kids: Heart & Stroke Canada says no!
Heart & Stroke Canada has a new report on food and beverage marketing to kids: The Kids Are Not Alright.
Our children and youth are bombarded with ads for unhealthy products all day, every day, influencing their food and beverage choices. This is having a devastating effect on their health and setting up conflict at home.

Marketing is big business and it is sophisticated…New research reveals that over 90% of food and beverage product ads viewed by kids and teens online are for unhealthy products, and collectively kids between the ages of two and 11 see 25 million food and beverage ads a year on their top 10 favourite websites.

It is time for this marketing storm to stop.
Its advice:
Eat healthy early, eat healthy often
Family food fights
Not your grandmother's commercials
Industry self-regulation is a failure
Legislation means a fair fight for everyone
Lots to work with here.  Glad to have it.