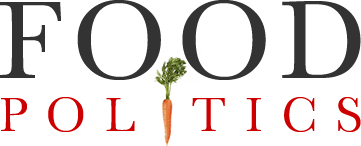 by Marion Nestle
NYC breakfast program: good, but oddly advertised
Charles Platkin of Hunter's Food Policy Center sent me this photo taken on the subway a week or so ago.
A croissant to advertise the school system's breakfasts?
Charles and a colleague greatly favor the school breakfast program, but the ad?  Not so much.  They discuss it in a post: "Unhealthy Health Advertising May Stimulate Eating and Send the Wrong Message."
Here's my quote:
"I'm in favor of kids getting breakfast in schools. It saves lots of problems for parents and ensures that kids start the day with some food in their stomachs. It's wonderful that the New York City Schools are doing this. With that said, the devil is in the details. I assume that all breakfasts meet USDA nutrition standards.

But croissants? These can be delicious—all that butter–but I wouldn't exactly call them "healthy" and I'm wondering whose bright idea it was to choose that item to display. Looking at the menus for December, they are largely grain-based—bread, granola, tortillas, bagels, cereals, and the like—along with fruit and milk.   I think they look pretty good—they certainly could look a lot worse–but the proof is in the eating. Some parents will hate these breakfasts (too much sugar, too many packages, not enough protein). Others ought to be grateful. Ideally, cooks would be making delicious hot breakfasts for kids in school but that isn't going to happen and from my standpoint this is a reasonable compromise. Presumably, kids who ate breakfast at home won't need or take these items. I'd like to see them in action to really get an idea of how this is working.