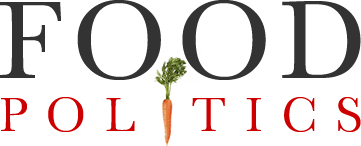 by Marion Nestle
Good news: sales of organic foods
The USDA announces:  2016 Sales of U.S. Certified Organic Agricultural Production Up 23 Percent from Previous Year
Sales of organic agricultural production continued to increase in 2016, when U.S. farms produced and sold $7.6 billion in certified organic commodities….

Results of the 2016 Certified Organic Survey show that 2016 sales were up 23 percent from $6.2 billion in 2015.

During the same year, the number of certified organic farms in the country increased 11 percent to 14,217, and the number of certified acres increased 15 percent to 5.0 million.
The top commodities in 2016 were:
Milk – $1.4 billion, up 18 percent
Eggs – $816 million, up 11 percent
Broiler chickens – $750 million, up 78 percent
Apples – $327 million, up 8 percent
Lettuce – $277 million, up 6 percent
And here's a quick look at the trend: