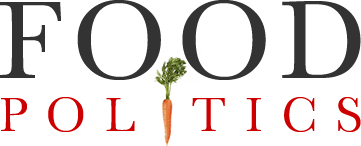 by Marion Nestle
USDA's enthusiastic (?) support of organic production
The USDA, whose job is to promote industrial agriculture, is usually an  uncomfortable home for the National Organic Program, but occasionally says something nice about it.
A couple of weeks ago, the USDA announced how much the organic industry has grown and how much the agency is doing to promote it.
The organic industry, says USDA:
Comprises more than 25,000 certified organic operations in more than 120 countries.
Includes 18,513 certified organic farms and businesses in the United States alone, representing a 245 percent increase since 2002 (see list of certified USDA organic operations).
Enabled 763 producers to become certified organic in just 2013, an increase of 4.2 percent from the previous year.
Generated $35 billion in retail sales last year (this sounds like a lot but the food industry generates more than a trillion dollars in annual sales).
Here's what the USDA says it's doing to help organic farmers.
Providing access to conservation programs
Providing access to loans and grants
Funding organic research and education
Helping to mitigate pest emergencies.
And here's what the farm bill is doing for organics:
$20 million annually for dedicated organic research, agricultural extension programs, and education.
$5 million to fund data collection on organic agriculture. t
Expanded options for organic crop insurance.
Expanded exemptions for organic producers who are paying into commodity "check off" programs.
Improved enforcement authority for the National Organic Program.
$5 million for a technology upgrade of the National Organic Program
$11.5 million annually for certification cost-share assistance to cover 75 percent of certification costs up to $750 per year.
Adds up to more than $40 million and sounds good, no?  Industrial agriculture gets $20 billion a year.
Organics are still a tiny fraction of the U.S. food supply and all too easy for USDA—and Congress—to ignore and not take seriously.
Upping sales would help.  A lot.